L'Ambassade des Etats-Unis recrute Plusieurs Profils
American Citizen Services Assistant
The U.S. Consulate in Casablanca is seeking eligible and qualified applicants for the position of American Citizen Services Assistant in the Consular section.
Duties:
The incumbent handles a full range of citizenship, nationality, and passport services as well as special consular services, including welfare/whereabouts, repatriations, medical assistance, arrests, deaths, property, and federal benefits assistance.
S/he is the primary liaison with Moroccan law enforcement authorities, hospitals, social services, the American Liaison Network (warden system), and responsible for the emergency messaging and travel alert system.
Requirements: A minimum of three years of increasingly responsible work that involves the application of complex regulatory material or legal interpretation and continuous contact with the public/customer service. 
IRM Admin Clerk
The US Embassy in Rabat is seeking eligible and qualified applicants for the position of the IRM Admin Clerk in the Information Management Office.
Duties:
The incumbent directly reports to the Information Management Officer (IMO). S/he will be responsible for providing first line customer service, help desk, and technical support to all staff and agencies working at the embassy.
S/he will be also responsible for all Information Resources Management (IRM) administrative assistance duties, to include answering phone calls, scheduling meetings, preparing reports, and managing all IRM documents and records.
The incumbent will serve as liaison with Moroccan Telecom and other IRM external customers. 
Requirements:
At least 2 years of experience working in an IT Help Desk or IT customer service position is required.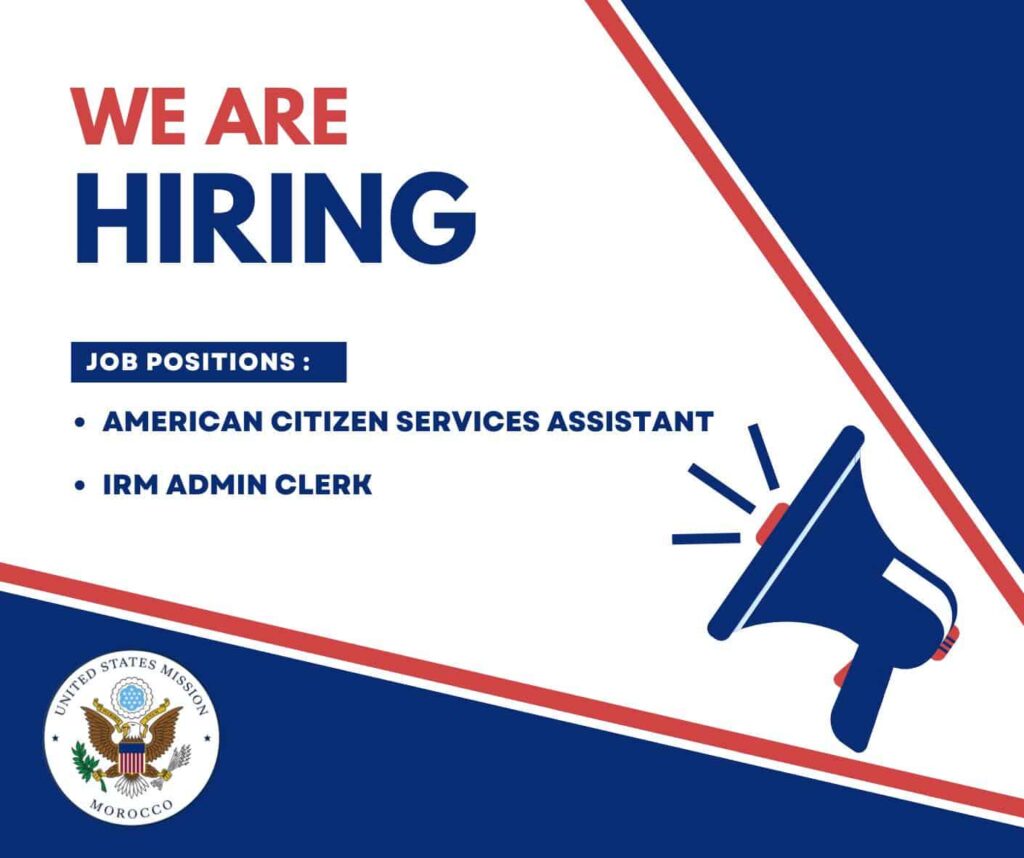 Comment Postuler – How to Apply
Everyone applying for a job must use the Electronic Recruitment Application (ERA).
1.Go to the Electronic Recruitment Application.
2.Find a job vacancy.
3.Review the vacancy announcement to see if you qualify.
4.Create an ERA account.
5.Log in to ERA and apply.
6.All applications and required supporting documents must be submitted through ERA to be considered.
The U.S. Mission in Morocco provides equal opportunity and fair and equitable treatment in employment to all people without regard to race, color, religion, sex, national origin, age, disability, political affiliation, marital status or sexual orientation.